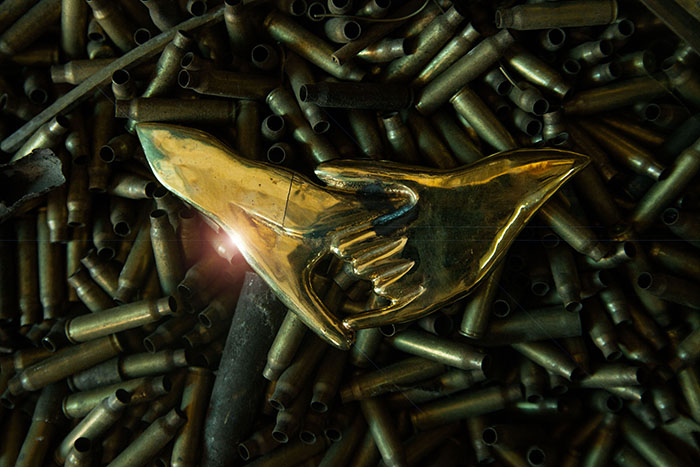 25 Jan

Recycling symbols of war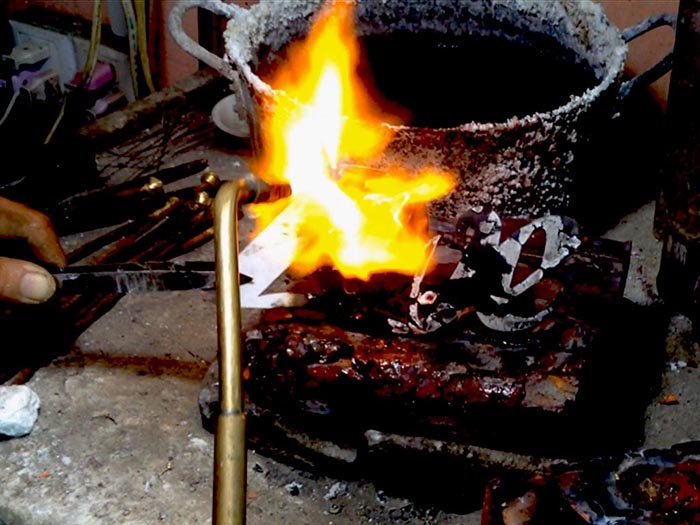 It's hard to imagine what went on thirty years ago in the Kingdom of Cambodia, where people now go about their business planting rice, going to market, getting married and going to school like any other in South East Asia. Talk to anyone as young as of our generation, however, and it soon surfaces that memories are still fresh. Of fleeing homes, refugee camps, bombings and being conscripted to a murderous army to carry and lay mines.
Our artisans obtain metal for recycling from CMAC (Cambodia Mine Action Centre) demining officers and from fishermen who catch bullet casings in their nets. Watch how Emi &Eve founder Cassandra accompanied a team of CMAC deminers in the Siem Reap area and learn how bomb casings are processed into our designs in our film archive.
In a tidy new housing development in South Phnom Penh, we find the foundry of Chantha Thoeun's family at the end of a quiet alley. Chantha learned the brass smithing trade at age 14 in the orphanage he was living in since his parents were killed by the Khmer Rouge. After coming of age and apprenticed by older tradesmen, he started work at a social enterprise in town, and then set up his own foundry. Read more about his story here.
Chenla Chan was also a refugee, and now supports his family by recycling bombshell scrap through orders from Emi &Eve. Chenla opens his home to the neighborhood children by way of impromptu day care centre, and on Sundays his home serves as the neighbourhood church. His jewellery making funds these community efforts. Read his story here.
We are very proud of our jewellery,  made from recycled war remnants, artillery shells and spent bullet casings. We designed them to tell their story of metamorphosis into symbols of friendship, peace and beauty!
Every cloud has a silver lining. What courage have you gained from passing through the fire of tough times? A piece from our collection serves as a symbol of strength. Do you have a friend or loved one who is going through difficulties? Gift them a bombshell brass piece from our collection as a reminder that there is light at the end of the tunnel.