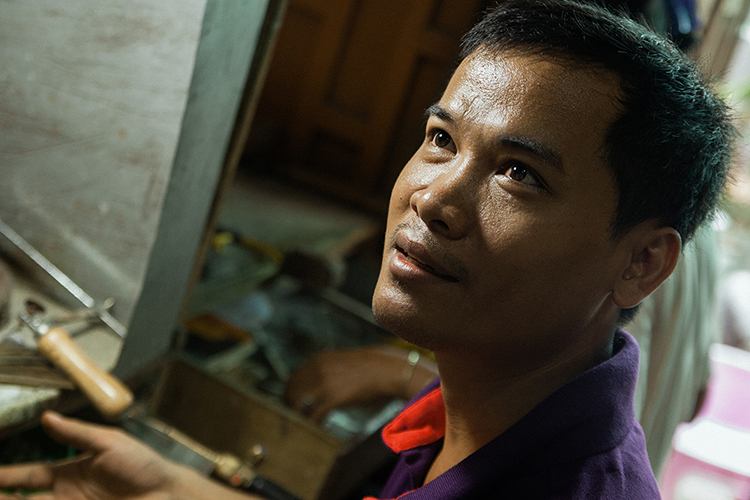 25 Mar

Get to know: Chantha Theoun, recycled brass artist

I was born in Pursat province, Cambodia. I don't have any siblings and my mother died when I was 4 years old. My father was killed when I was 8 years old by a notorious Khmer Rouge soldier. It was a terrible time for me. I was only a young child and didn't realise my father was dead. I begged him to wake up. Sadly, I did not know that he passed away.
I then went to live with my grandparents, and I received support from the SKIP Organization ( an orphanage and vocational training programme, now no longer existing) and this allowed me to continue my studies in Phnom Penh.
I started learning jewelry making from the age of 14 years at the SKIP Organization. I was an apprentice for nearly 4 years in their jewelry training section.
I got married in 2009 to my wife Thearny Kol. My wife can make jewellery and sews bags made from recycled materials as well. We have a daughter, her name is Rozannara Chantha. She is just 3 years and 5 months old. She recently started going to the kindergarten school. (update: Thearny and Chantha have another daughter now)

I managed to save some money and used that to study digital graphic design, which enabled me to expand my skill set. I also had the opportunity to learn from a visiting Australian fine jeweller how to set precious stones.
Most of the designs we make for our clients are difficult and unique ones, only a few designs are easy to produce for me and my producer group.
We are very proud of our goods being sold in local and international markets. It is unbelievable! We will continue to try our best as we are so very pleased to produce jewellery for our customers through Craftworks Cambodia. I hope we are able to make more and more jewelry in the near future. We are committed to collaborate with Craftworks Cambodia for the long term.
Shop the Emi & Eve jewellery and clutch collection featuring recycled brass made in Chantha's foundry!

All photos by National Geographic Young Explorer Hannah Reyes